AXiS Accessories
---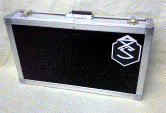 AXiS-64 Flight Case
Made to measure for your AXiS-64 with space for power adapter and MIDI cable. Tuff and durable as you would expect to give a high level of protection against the rigours of travel or tour.
Price £130.00 +delivery +VAT.
Image of AXiS-64 in flight case.
---

AXiS-64 Power Adapter
Recommended power adapter for AXiS. Converts from ~ 240 V @ 50-60Hz or ~ 110 V @ 50-60 Hz. Supplied with AXiS-64.
Price £30.00 inc. UK delivery + VAT.
The AXiS-64 works with 12 VDC either polarity. Most people get a new one or spare at a local store, although obviously we can't guarantee it. If you need one from us, please contact support@c-thru-music.com.
---
For AXiS-49 - from other companies
Please note: We have no connection with the companies who make the following products, and are not paid to promote them, nor can we make any guarantees that they'll work for you.
Some C-Thru Music customers are using these sucessfully with their AXiS-49's.

Korg Nanopad
Cost effective alternative to wheels on the AXiS-49.
You can use the large pad to control pitch bend and modulation
(and use the product for many other things)
A Korg NanoPad is used in this YouTube video to play a solo on the AXiS.
[Google it].
---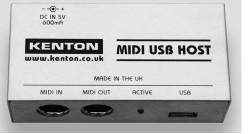 Kenton MIDI-USB host
MIDI from AXiS-49 without a USB computer.
Although most people use the AXiS-49 with their USB computer,
some want to use it to give out MIDI directly.
This product acts like a USB-enabled computer and sends the MIDI
straight out from it's MIDI socket.
(It copes with the AXiS-49 power requirements too).
See the Kenton MIDI-USB host.
---