Unlock your musical genius
Imagine there's a better way to understand musical harmony,
and to put music at your fingertips.
This puts musical notes into a consistent whole
which is easy to use, and helps with learning and creativity.
The Harmonic Table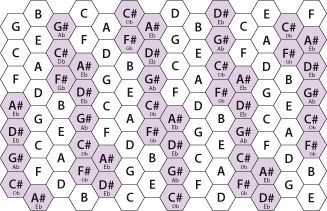 What you feel and what you see meshes perfectly with what you hear using the Harmonic Table note lattice.
The obvious difference with this music interface is the key surface,
which gives you a geometric overview of musical harmonies.
Learning it is absorbing, and using it is inspirational, and fun.
The layout of notes on the keysurface helps you expand your creativity and productivity in a live or studio situation.
Playing it is like no other instrument.
It helps no end with composing and arranging.
There are some quotes, comments, and video testimonials.
and an introduction in the AXiS-64 video manual.
See some customer reviews.
---
Products
Performance MIDI Instrument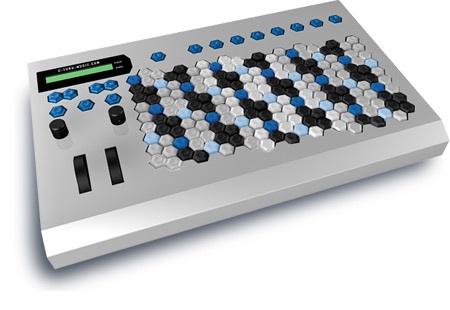 The AXiS-64 Pro MIDI controller is for performance and recording. It is fully featued and can handle complex set-ups. See the AXiS-64 page.
(and pictured on tour)
Composer's Music Interface

Harmonic Table interface for your computer. The perfect extension to your DAW. No driver required, just plug it in (USB). See the AXiS-49 page.
See also Selfless Mode
---
Helping you make your music
You can get almost any sound from your computer, but sometimes there's nothing like the real thing. You may want to learn an instrument, even if only for a particular part you need. Here's some advice that might be helpful
When you're tackling making your own music, a couple of things can get in the way. Firstly the muse may not strike you. Aside from getting stuck, it's easy to get carried away and lose perspective. Maybe this could help.
---